What are the differences between the State Park and National Park campgrounds?
Interested in camping on the Maryland side of Assateague Island? If you just started your research journey, the first thing you need to know is that there are actually multiple campgrounds on the island to choose from. We'll explore and break down the differences between the campgrounds.
On the Maryland Side of Assateague Island, there are two separate parks that are managed by two separate entities. Assateague Island Maryland State Park is managed by Maryland's Department of Natural Resources and Assateague Island National Seashore is managed by the National Park Service.
Camping on the Maryland State Park Side
The state park side is the closest to the "mainland" where you cross the Verrazano Bridge over to Assateague Island. Continue straight after you cross the bridge and you'll see the state park sign. Camping check-in is the first right turn after the sign.
The state park campground is open from the last week of April through the last week of October*. Camping can be booked 12 months in advance and weekends and summer weeks fill up that far in advance. Many reservations do get canceled, so you can continue to check the reservation site for weekend availability. To make a reservation at the Assateague State Park campground, click here.
(*Subject to change. Be sure to check Maryland DNR's website for updates)
There are around 340 campsites available in the state side campground. Campsites are arranged in loops off of a main road that runs parallel along the beach. RV access is easy on the flat, paved loops. No campsite on Assateague offers sewer hookup, however, a limited number of sites on the G Loop and the I Loop in the state park campground offer electric hookups. These sites have a higher booking fee and are typically the first to book for the summer season.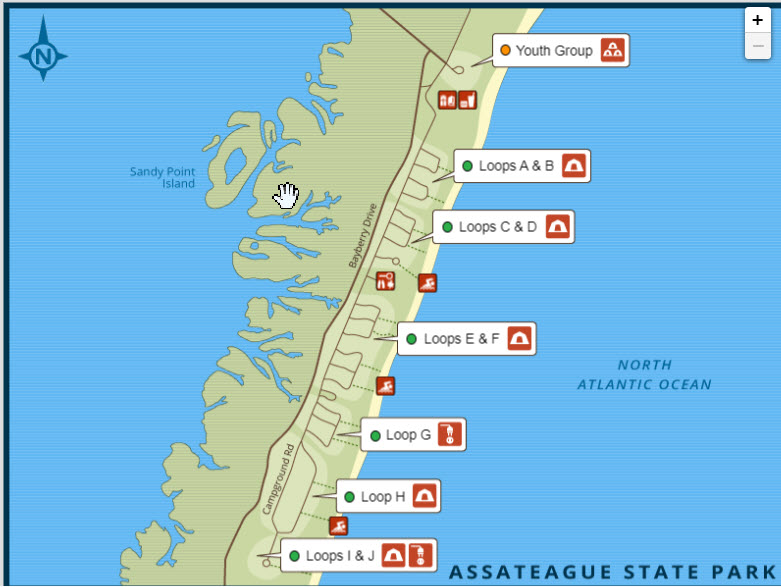 Below are additional important rules regarding the Assateague State Park Campground. Note that many of these do not apply to the National Park campground:
– Pets are only permitted for camping in the G, H and I loops and the adjoining beaches.
– Alcohol is prohibited in Maryland State Parks
– Quiet hours are from 10PM to 7AM. Generators may not be operated during these hours.
– There are no beach bonfires permitted in the state park, however, bonfires are permitted in fire rings provided at each campsite
While the National Park is the more popular spot for a day at the beach and visiting Assateague for the day, the state park tends to be the more popular choice for camping on Assateague Island for one particular reason: the bathhouses. Each loop has its own large bathhouse that is equipped with plenty of flushable toilets and hot, running water. There is also electrical outlets in the bathhouses for personal products such as hairdryers. There are a limited number of showers in each bathhouse and outside of every bathhouse is a large metal sink to wash dishes with hot water. In contrast, the National side only offers latrine-style toilets and cold outdoor showers.
Camping on the National Seashore Side of Assateague Maryland
The National Seashore offers several different camping experiences: two oceanside loops, the oceanside walk-in campground, the bayside campground and backcountry campsites that can only be accessed by hiking or paddling.
Oceanside Loops 1 & 2
There are a few sites on the oceanside loops that have a paved pad to handle RVs, trailers and camper vans. Oceanside loops 1 and 2 are sites #1 through #41 in the online reservation system. These sites vary in the equipment that they allow due to the surface that they are positioned on. One thing that all of these sites have in common is that they are designated spots for 2 personal vehicles, whether it's 2 cars to a tent site or an RV or camper plus 1 vehicle. This makes these spots a bit more convenient as opposed to the walk-in sites because you can store your food and belongings in your vehicle and have easy access to them.
Here's an example of a tent-only site located on Loop 1 Oceanside:
Walk-In Campsites
If you continue down Bayberry Drive adjacent to the oceanfront loops 1 & 2, you will see three separate sections of walk-in campsite parking areas on your left. Site numbers 42 through 104 are all walk-in campsites. These are all tent-only sites and are all located in the hilly sand dunes. The wind on Assateague can be extreme, so heavy-duty sand spikes are highly recommended as you plan your trip. We've tested several sand spikes including the cheaper plastic ones, and we've had the best luck during storms with these Sand Spikes.
Each walk-in campsite is designated 1 parking spot that is located outside of the entrance to the walk-in sites. Up to 6 people or 3 tents are allowed per campsite, so if you come with friends and have an extra vehicle, you will need to park in the North Beach parking lot. Note that you will have to carry all of your equipment from your car down a boardwalk and then through the soft sand as much as 100-200 feet from the car, depending on where your campsite is located. The reward once you are set up is great, however, as you are truly beach camping and isolated from any traffic in these campsites.
Each section is equipped with two bathroom stalls and two cold-water outdoor showers, however, please note that they some sites require a hike through the sand to get to these bathhouses, and it gets VERY dark on this part of the island if there is no moon. We recommend a high-powered rechargeable flashlight like this one. Each campsite also comes equipped with a picnic table and a fire ring, so be sure to add a stop for local firewood before you set up for the night.
Bayside Campground
The bayside campground offers 3 loops labeled A, B and C with campsites A01 through A24, B25 through B37 and C38 through C49. You can find the bayside campground by making a right onto Bayside Drive just after entering the gates of the National Seashore. Each campsite in this section of the park offers a paved pad for RVs and trailers, a large grassy area for a tent if needed, a picnic table and a fire ring. When booking, the Recreation.gov site will provide you with the maximum length of RV or trailer equipment allowed in any given site.
Since the bayside campground offers the most number of sites for travel trailers and RVs, this will be your best bet for snagging a reservation for an extended period of time, especially in the off-season. While it's a bit of a walk to the ocean from these sites, there is plenty of parking in the North Beach parking lot. There is also lots of great options for bayside recreation to enjoy close by, and the sunset views from this side of the island can't be beat. At the end of the Bayside Drive, you'll find the hut for Assateague Outfitters that offers kayak, paddleboard and bicycle rentals. Check out their website for hours, pricing and tour details.
Located right next to Assateague Outfitters is the bay beach. It's a perfect beach spot for small children that may be intimidated by big waves, as the water is only a foot to three feet deep for a long way out. It's also a great spot to have a picnic and watch the sunset. The bay beach are is equipped with a bike rack, a bathroom, several picnic tables and charcoal grills.
There's also a terrific trail across from the Bayside Campground loops called the Life of the Marsh Trail that's incredible for wildlife and bird photography most fair-weather mornings.
Since the Bayside Campground is a distance from the Atlantic Ocean and is surrounded by the marsh on both sides, we will give you fair warning that this area does tend to be incredibly buggy if the weather is hot and sticky. Screened-in tents to place over your picnic table area and plenty of bug spray is highly recommended.
What is your favorite area to camp in on Assateague Island? Feel free to share your pros and cons of each spot in the comments below!